Swami Santhiprasad's
Yoga Letters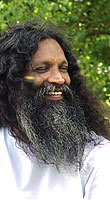 SCHOOL of SANTHI
International

...........................


School of Santhi
Yoga Teacher Training School in India & Europe


...........................


Traditional
Yoga School in India
for spiritual seekers
guided by
Swami Santhiprasad


...........................
Swami about the sound of breath:
Swami Santhiprasad, Spiritual Yoga Master & Yoga Guru
Learn more about Traditional Yoga and Indian wisdom
from Swami Santhiprasad, Spiritual Yoga Master at
School of Santhi Yoga School in India,
Traditional Yoga Teacher Training in Kerala, South India


---

December 2006
Dear Yoga friends,
Be yourself and listen to the sound of your breath!

Why should you try to become somebody else? Why not be your self? Why should you try to become Buddha? Certainly, it is not good to become Buddha. It might certainly be good to be yourself, however great the other ideal is. Ideals are dreams. It has nothing to do with reality. To be like Jesus is not good for you. It is certainly not good!



I am is the only reality!



Your wish to be like somebody else is the problem. You cannot be like Mahavira, you cannot be like Buddha, you cannot be like Jesus, and you cannot be like Mohammed the prophet. You cannot be like me. I cannot be like you. "I am" is the only reality. When you realize this, your breath is settled. In other words, when your breath is settled it will be easier for you to realize this great truth.

To become somebody else when you are in your body, is impossible. Why do we attempt to achieve the impossible, when the possible is always at hand? To be as you are, is the great possible reality, the only possibility. We ignore this great possibility and try to be something else. Are we not attempting the impossibility in the name of freedom, in the name of emancipation, in the name of realization?

If we continue this way our life breath will completely be shattered. There will be cyclones and hurricanes in our breath. This is what happens in the life of many. All these turbulences are arising from the core point, which is to pretend, to become somebody else.

These ignorant paths were supported by the parents and by the society all along. Charlatan masters support the same. It is so important for an individual to open his eyes and see realistically to come out of this falsity.



To become aware of - remain simply as you are!



The starting point of transformation is
" to become aware of "

The finishing point is
" remaining simply as you are "

When you start to see your breath, mind and your being, you will inevitably understand everything about yourself. There are no other secrets. Everything is so evident for you, as you are living your own life.

In Swara Yoga the Master speaks through Lord Siva, that whoever listens to the sound of ones own breathe will never be born again! When you keep a constant vigilance on your breath, you will see everything, which is happening in your system in its subtleties, as the unconscious side of your existence slowly, starts to unravel to the conscious.

This is nothing extra ordinary. Everything in nature is ordinary. Whatever you have done is very ordinary. During this process, you will become aware of all the normal and ordinary things you have done in your life. All the attempts to make ordinary and normal things to extraordinary and supernormal will slowly starts to shed off.

The heaviness of breath changes sporadically. It becomes so light and pleasant! Moreover, you will come back to the essential breath. You live your life in this way, doing everything, which is inspired spontaneously from within, till you breathe your last! You have lived your life so intelligently without making it complicated that you will feel a natural completion of it when the life breath flows out of you saying goodbye.

When you are in close contact with your life force you will see every subtle vibration the breathe makes when it is within you. The one who makes this system flowing, will see the passage and its further transformations when the breathe goes outside. Who is the one who is seeing here? Who is the one who is doing? Is their any difference between the seer and the doer?

Witnessing is not a difficult task. It is the simplest thing ingrained in the human system. It is happening all the time. Whatever we do, we inevitably see. No one can avoid seeing it. One can pretend that he is not seeing. If you become aware of it, you will start to feel freedom.

That is why it is said by the wise that you are born with freedom. Freedom is your birthright. What a paradox it is, that one who is born with freedom is searching for freedom! So far, we are searching, we will never find out. You can look for some more years or lives as you feel.


However, there will come a day
when you will stop seeking for it. When you stop seeking, you will realize
YOU ARE!



Swami Santhiprasad
Swami Santhiprasad, Spiritual Yoga Master & Yoga Guru



I have committed myself


to be available always for all of you and share whatever I have understood during the course of journey of my life, both in the Indian spiritual Yoga traditions and beyond, as a seeker. What we need in this world is few individuals who could commit themselves to explore their own inner world! It is really difficult to find few of them. However, I commit myself to be available always!


Love Swami Santhiprasad
Spiritual leader

•

Yoga Master

•

Yoga Guru
School of Santhi Yoga School, Kerala, South India
SCHOOL OF SANTHI YOGA SCHOOL
School of Santhi Yoga Teacher Training India
•
School of Santhi Yoga Teacher Training Europe
Traditional Yoga Teacher Training Schools in India & Europe for serious spiritual seekers - guided by Swami Santhiprasad
webmaster
l copyright © School of Santhi International 1996-2017 l
photos from www.ronkainen.se
l
sitemap
l
contact