Swami Santhiprasad's
Yoga Letters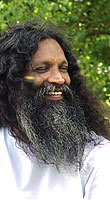 SCHOOL of SANTHI
International

...........................


School of Santhi
Yoga Teacher Training School in India & Europe


...........................


Traditional
Yoga School in India
for spiritual seekers
guided by
Swami Santhiprasad


...........................
Swami about the breath:
Swami Santhiprasad, Spiritual Yoga Master & Yoga Guru
Learn more about Traditional Yoga, Swara Yoga and Indian wisdom from Swami Santhiprasad, Spiritual Yoga Master at
School of Santhi Yoga School in India,
Traditional Yoga Teacher Training in Kerala, South India


---

November 2006


Dear Yoga friends,


Become the flute playing the music of living!

While we exist in this body, the breath is the essential sustainer of our existence. Therefore, it is so important for us to know our essential breath.

Become the flute playing the music of living!



The essential breath is natural

and the changes that happen to it in order to cope with different circumstance are also natural. For example, no one can enter into sex without the breath is naturally modified. Also without changing the breath, no one can let out ones tension through anger and cannot enter into possessiveness, which is a basic instinct for survival.



Similarly without the modification

of the breath, one cannot be greedy or passionate. When one feels compassion and love, the breath also undergoes modifications. It changes continuously.



As long as we are alive

and therefore breathing, our breath will change in conjunction with our reactions to our surroundings. Certainly, these fluctuations are essential for the human survival as a being. It is good and bad at the same time and hence we need a balance. Essential breath is the balanced breath.



When a person is totally relaxed

and balanced there will be a small whistling sound made by the breath. When the breath starts to whistle you can be sure that, you are with the essential breath. It is the subtle music of life, the symphony of living!



The essential breath is constant

for every one of us. It depends upon both the psychological and the physical make-up of the individual. It also depends on the intensity at which one has taken his first breath. What is normal for one person may not be normal for another.



The normal breath changes

according to the state of ones body and ones mind. When one is anxious due to insecurity, the breath changes to a level, which is normal for that situation.



There are qualitative

as well as quantitative changes in the breath when one feels anger, pride, avarice, competition and fight. The same is true for sorrow, empathy, compassion and love. When one feels deeply integrated within oneself, the breath becomes feeble, starting to flow without even the air noticing it. This is the state of Kevala Kumbhaka or absolute retention as told by Yogis.



By looking at the essential breath

and its manifestations, the corresponding changes, which happen in the mental and physical plan, you will be able to know in due course that everything is functioning quite naturally. When you confirm this, you will be able to accept yourself as you really are. Accepting without attempting to modify is the first step in the process of evolution.



Firstly, you have to accept

that you are an animal. After that comes the development of realizing that, you are human. When your humanness is fit enough to accommodate the entire existence, you will realize that you are in every being and every being is in you. Then you have transformed into divine!



You will in turn experience

the intelligence flowing as an unbroken stream of consciousness that expresses as Existence! You become the flute that plays the music of living, connecting you to celestial ecstasy.


Settle your breath
and your mind settles!
As breathing is

an involuntary activity we remain ignorant of the Pranic cycle. Whether we are aware of it or not we are like simple puppets playing on two strings that pass through our nostrils.



One day the puppet

will inevitably have to fall by breaking the string as the body is too heavy for the string to hold on. When the string is broken no one can tie it together again. The puppet finishes, the play and the curtain falls.



It is important to know

the play, the player and his tool, the string, before it falls otherwise you will not know the game. When one becomes aware of this game you will become more joyful. As it goes, the joy develops into a kind of celebration.



It is natural

for all beings to go there and experience our own inner joy. There's no need to do anything special to experience this. One has to simply be aware of the Prana, which is operating through the process of breathing.



As long as you are alive

you can experience this, as you exists with Prana. Our life itself is sustained by Prana, and are in a way the program for experiencing, knowing, getting satisfaction, happiness and liberating us from the bondages of birth and death.



You does'nt need any

extra tool, other than being aware of your own Prana. This will offer you the essential experience, based on which all other experiences become genuine. We are fortunate in having this opportunity to experience our own life and its inherent celebration! It works usually without our knowledge or will. It happens by itself. When we are simply aware of this flow, the mind starts to relax. The relaxation that leads to meditation will happen only with the settlement of the breath. When your breath settles, your mind settles. When the mind settles, you enters into deeper relaxation. A tensed mind cannot reach the state of clarity needed to comprehend the true self.



Listen to the sound of the breath!

The simplest way to study Prana is to listen to the sound of the breath. It carries with it a subtle vibration, which explicitly shows who you are.



The breath constantly

chants the mantra SOHAM, which means, "I am that". It chants at least 26400 times a day in an adult human being. This sound of breath is known as Swara. Within the Swara all the planes of existence are hidden. Swara is considered to be the cause of creation, existence and dissolution.



In Siva Swarodaya

it is said that within the Swara, the entire Vedas, Sashtras and musical knowledge are hidden. Music always makes one move according to its rhythm. Moving according to the rhythm is dancing.



Effortless movement

in its own accord will lead to forgetfulness. Forgetfulness is the quality of innocence. Innocence leads to the experience of love. When love blossoms you cannot tie up yourself with your own body and bodily pleasures and comforts alone. Going beyond the limitations of the body is flying and a celebration by itself!


---

Settle your breath
and your mind settles!



Swami Santhiprasad
Swami Santhiprasad, Spiritual Yoga Master & Yoga Guru



I have committed myself


to be available always for all of you and share whatever I have understood during the course of journey of my life, both in the Indian spiritual Yoga traditions and beyond, as a seeker. What we need in this world is few individuals who could commit themselves to explore their own inner world! It is really difficult to find few of them. However, I commit myself to be available always!


Love Swami Santhiprasad
Spiritual leader

•

Yoga Master

•

Yoga Guru
School of Santhi Yoga School, Kerala, South India
SCHOOL OF SANTHI YOGA SCHOOL
School of Santhi Yoga Teacher Training India
•
School of Santhi Yoga Teacher Training Europe
Traditional Yoga Teacher Training Schools in India & Europe for serious spiritual seekers - guided by Swami Santhiprasad
webmaster
l copyright © School of Santhi International 1996-2017 l
photos from www.ronkainen.se
l
sitemap
l
contact