Swami Santhiprasad's
Yoga Letters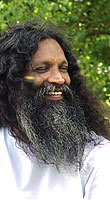 SCHOOL of SANTHI
International

...........................


School of Santhi
Yoga Teacher Training School in India & Europe


...........................


Traditional
Yoga School in India
for spiritual seekers
guided by
Swami Santhiprasad


...........................
Swami's talk about ideas of freedom
Swami Santhiprasad, Spiritual Yoga Master & Yoga Guru



February 2007


Dear Yoga friends,


Ideas of freedom and freedom
are not the same!


Human body comes out of food, exists on food and if food is not provided, the body will perish. So the Seers of the East consider the body as Annamayakosam.

Annamayakosam means the sheath of consciousness that exists on food. Food is synthesized in plants through a process called photosynthesis. In photosynthesis the energy of sunlight and its warmth is fixed by the plants as food. In essence, ultimately it is the warmth of the sun that creates and sustains the body. In this respect it is needless to say that there is a great sharing in nature based on which we are surviving. We are part and parcel of Nature, which is existence itself.

The moment we start to feel we are separate from the whole we break the harmony of existence. Thereby, we miss the great possibility to experience the whole.

The food, we consume, is also carried to each and every cell of our body through the blood stream. It stays in the tissues, as easily breakable compounds. Plants are the only organisms that can manufacture food on their own. As human beings, we are in fact indebted to the flora world for its benediction in the form of food for our survival. When this food reaches the human body it waits for the Prana vayu, oxygen, to come, unite and liberate the energy.

This oxygen is also coming from Nature. Air enters to the human lung due to the air pressure adjustment that is kept in the nature by the great Intelligence. Those who have eyes to see unbiased can always see the unbounded grace that is showering upon all the beings for their maintenance. We are surviving on the grace of the ultimate, the all knowing Intelligence, which is functioning both inside and outside. We often hear some one says that he is not seeing this grace. It is exactly the same as that person hides under the shadow and complains that sun light is not falling upon him.

The water that we drink is not created by human beings. We only have arrested its flow and felt that we are the owners of it. There is a lot of quarrel for its sharing all along the human history; still we do continue this fight. There is something wrong in human beings. It is so strange that he has to feel that everything belongs to him.

To feel ownership of everything gives him pleasure. He is always on pleasure hunt. Certainly pain is the other side of pleasure. It is paradoxical that he is not seeing the pain pleasure continuum even when he is suffering and enjoying from the same root cause. Though we are surviving on food, water, sun light, air and so on which are the simple components of existence, it is so difficult for human beings to feel that he is not a separate entity.

Why posses when you are the whole?

By entertaining the idea of possession we limit the scope of our unbounded Nature. So there arises the idea of freedom. Ideas of freedom and freedom are not the same. Freedom is beyond the limits of language. Ideas of freedom are with in its limits.

It is important to examine all our ideas, concepts and believes as a first step and generates readiness to leave them as they are the root of our individuation that limits the scope of being full and complete. Everything is full and complete. So there is no everything. There is not many, but only One and that is perfect


---


Aum ~ Santhi ~ Santhi ~ Santhi




Swami Santhiprasad
Swami Santhiprasad, Spiritual Yoga Master & Yoga Guru



I have committed myself


to be available always for all of you and share whatever I have understood during the course of journey of my life, both in the Indian spiritual Yoga traditions and beyond, as a seeker. What we need in this world is few individuals who could commit themselves to explore their own inner world! It is really difficult to find few of them. However, I commit myself to be available always!


Love Swami Santhiprasad
Spiritual leader

•

Yoga Master

•

Yoga Guru
School of Santhi Yoga School, Kerala, South India

............................

............................

............................

............................

............................

............................

............................

SCHOOL OF SANTHI YOGA SCHOOL
School of Santhi Yoga Teacher Training India
•
School of Santhi Yoga Teacher Training Europe
Traditional Yoga Teacher Training Schools in India & Europe for serious spiritual seekers - guided by Swami Santhiprasad
webmaster
l copyright © School of Santhi International 1996-2017 l
photos from www.ronkainen.se
l
sitemap
l
contact